Stones become work of art on exhibition at the fair
Transform raw materials, such as granites, marbles and quartzites, into exhibition pieces and works of art. This was the result of the second edition of the Brazilian Stones Original Design exhibition, promoted by the Brazilian Association of the Ornamental Stones Industry (Abirochas), in partnership with the Brazilian Agency for the Promotion of Exports and Investments (Apex-Brasil), which is held within Vitoria Stone Fair | Marmomac Latin America, and takes place until Friday (15), in the Exhibition Park of Carapina.
In the space of more than 250 square meters, the exhibition gathers tables, counters and fruit trees, created by 16 renowned designers in the country and pieces by renowned artists. From the exhibition, these pieces will be exhibited in other countries or put for sale in reputed decoration shops.
"Design and art are the best ways to add value to the stone sector and present all lightness and versatility a stone can acquire", says Vivian Coser, architect and curator of the Brazilian Stones Original Design.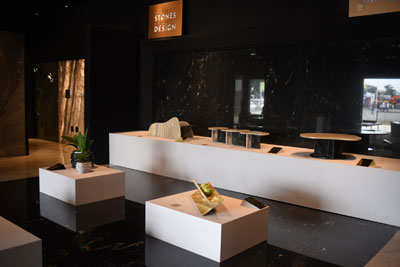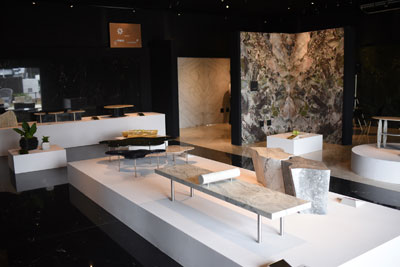 Currently, Espírito Santo is the largest exporter of slabs and blocks of marble and granite in the country, accounting for more than 80% of Brazilian production. The intention of the exhibition, according to Vivian, is to show that it is possible to transform materials into pieces of designers and works of art, bringing more value and attracting new export markets.
Third export wave
At the opening of the Brazilian Stones Original Design exhibition, the president of Abirochas, Reinaldo Dantas Sampaio, reinforced that the sector undergoes a third wave in exports: "First were the blocks, then the sawn and polished slabs - placing Brazil as the fourth player in the world - and now we want to conquer the final product market, the work, the project, adding value and sophistication", he explained.
He pointed out that this approach of the stone sector with the art brings a new approach to originality, beauty and authenticity. "The stone is authentic and I look at the materials that try to imitate it in a vain attempt to gain an authenticity that only the stone has."
Sampaio also said that the maturity of the Brazilian entrepreneur and the technological quality of the industry, makes clear that the segment is ready for this new market achievement, exemplifying the actions developed by Abirochas within the Vitoria Stone Fair as the approach of international architects with Brazilian industrialists.
---