VITORIA STONE FAIR 2020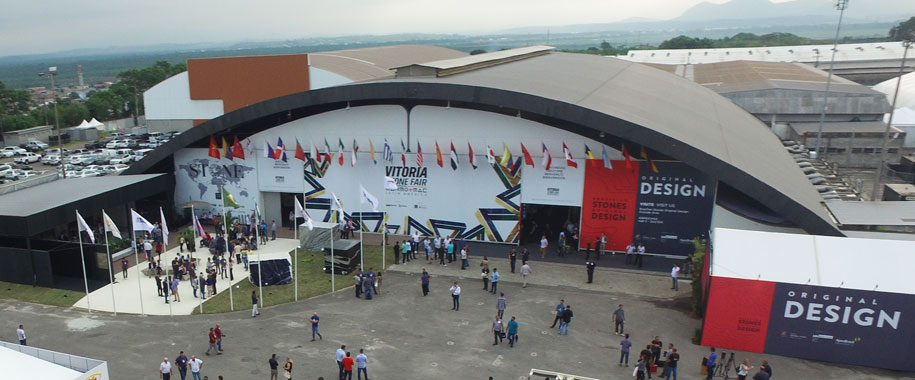 Reference for the ornamental stones industry in Latin America, Vitoria Stone Fair brings together large companies of extraction and processing of natural stones, equipment, machinery, supplies and technologies from all over the world.
The event is an opportunity to conduct face-to-face business, evaluate products and services, work on marketing tools, expand actions and product launches, strengthening partnerships and prospecting new markets.
Window to the world, Vitoria Stone Fair is held in Espírito Santo, state with the largest Brazilian industrial park in the country. While Brazil has the greatest diversity of natural rocks in the world - more than 1,200 varieties - ES is the largest producer and exporter of slabs and blocks.
✓ 47 Editions
✓ 30 mil m2
✓ Largest fair of the sector in the Americas
✓ Air-conditioned Halls and external area
✓ Area for blocks exhibition
Throughout the 4 days of the event, the fair welcomes professionals from the most varied sectors related to the extraction and processing of rocks, civil construction, architecture and design. Vitoria Stone Fair is also opened to students from areas related to the event.
Statistics of the fair
*2018 data

✓ 20.362 visitors
✓ 1.926 international visitors
✓ + 300 exhibitors
✓ 100 international buyers invited for the Buyers Club project
✓ 46 countries
Angola, Argentina, Australia, Austria, Belgium, Bolivia, Canada, Chile, China, Colombia, Costa Rica, Ecuador, Arab Emirates, Spain, France, Greece, Hong Kong, India, Indonesia, Iran, Israel , Italy, Liechtenstein, Mexico, Namibia, Nigeria, New Zealand, Panama, Paraguay, Peru, Poland, Portugal, United Kingdom, Dominican Republic, Russia, Switzerland, Taiwan, Trinidad and Tobago, Tunisia, Turkey, Uruguay, USA, Venezuela and Vietnam.
Online registration
Online registration is now open.
Click
here
and guarantee your participation.
Entrance
Invitation or Tickets only, exclusively for Professionals of the Sector - Must present ID and Business Card. Minors under the age of 14 will not be admitted, even when accompanied by parent or legal guardian.