Quartzite present at Vitoria Stone Fair is featured in luxury store in the world fashion capital.
Reference in the segment of ornamental stones and one of the leaders in the export of sheets, Corcovado Brasigran Group presents its differentials during the Vitoria Stone Fair, which takes place from February 12 to 15, at Carapina Pavilion. One of the highlights will be the Green Peace quartzite, a material chosen by the architects of Dolce Gabbana, in the remodeling project of the Montenapoleone store in Milan, Italy.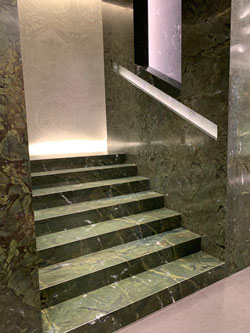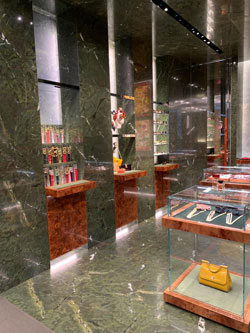 The Donatello, Black Salinas, Yosemite Falls, Golden Fusion, Frangélico, Caravaggio and Moulin Rouge stones will also be in the fair at the booth.
To create bold space, the design is one of the highlights of the project. The company focused on CNC cutting technology to show various finishes and dimensions carved from natural stones. Besides the presentation of the material in the 3D finish, Brasigran also invested in the production of objects such as benches, tables, and pots made with the same machine that will ornament the booth.
"We exalt the natural beauty and the multiple possibilities of using the rocks in the decoration and the development of environments," commented Brasigran´s marketing director, Renata Malenza.
Works by the artists Beth Jobim, Sami Hilal and the architect Vivian Coser, created with company material, are part of the decoration and show that the stone goes beyond the floor and wall. "Ornamental rock has great versatility. We want to show that pieces of decoration and design can also be made with the material," says Renata.
Website: www.brasigran.com.br
Pavilhão 2 - 196
---