5 reasons for using natural stones in architecture
Wide variety of colors, tones and textures, combined with the characteristics acquired in nature itself, such as veins and imperfections, make the use of natural stones in the architecture an aspect of exclusivity and refinement to each designed environment.
In addition to its aesthetic value and durability, the choice of each material tells a lot about the personality and style of each client. Due to the wide variety of natural stones available in the Brazilian market it is possible to please from clients who opt for classic products, to modern clients, who bet on colored stones with textures and movements. Due to it all, the use of the stones in the decoration turns the space into a true piece of art, in addition to conferring unquestionable beauty and authenticity.
Synonymous with elegance and timelessness, the stones are the stars of the scenarios, and can be applied in their raw or finished form. Its textures and colors also have the power to add charm and warmth to facades, floors, countertops, furniture and decorations.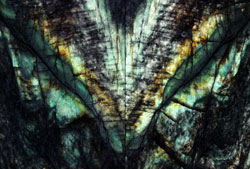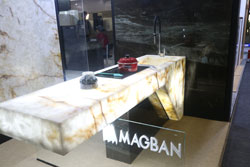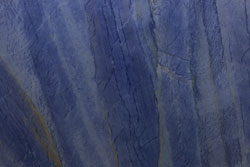 See below five reasons to use natural stones in architecture.
1 - A storyteller choice
Following fashions in the decoration can be a trap when decorating or coating, since changing the look of the apartment or office is not as simple as changing clothes. So, opting for materials that are timeless and less susceptible to trends can be a good call. Natural stones have been used in decoration since ancient Egypt and have never lost their prominent place when it comes to giving a touch of luxury and beauty to the environment.
2 - Exclusive art gallery
There is not one leaflet identical to another. This alone is already a good reason to use the natural stones in decoration and architecture. Because they come from nature, they contain traits, veins and coloring peculiarities that enrich the design and provide exclusivity in the projects.
Due to characteristics of the Brazilian nature, the country has stones of unique coloration, with yellowish tones, dark green and multicolored. The color also varies depending on the region of extraction.
3 - Versatility in decoration
The ornamental stones had their first uses in the pyramids of Ancient Egypt. Since then, they have been used as facade, floor, wall, countertop and tabletop coatings, and today can be seen in unconventional applications such as furniture, design pieces, fireplace and pool table. Because they are sustainable, stone waste can also be used to create new products, such as mosaics, decorative pieces and drainage floors.
Various types of treatments, such as polished, semi-polished, flamed, sandblasted and rough finish, contribute to the versatility of the material. Including, the mixture of finishes in the same stone for application in a single space has been a resource much used by the professionals and decoration lovers.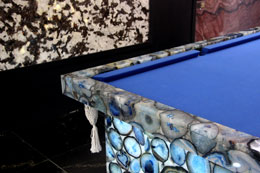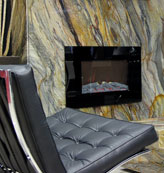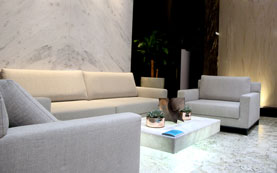 4 - Beauty that goes beyond generations
The use of ornamental stones in constructions goes beyond generations and ensures the useful life of buildings. Its charm and durability can be enjoyed in sceneries and iconic works scattered around the world, reaffirming the beauty of materials and the history of their use. The Copacabana Palace pool, the Tomorrow´s Museum, in Rio de Janeiro, and Dubai´s largest airport are just a few examples. The choice of natural stones for places of large circulation of people is proof that they were made to last.
5 - Maintenance without effort
In addition to beauty, durability and versatility, the stones still give practicality to the environments. This is because its maintenance requires simple care such as cleaning with water and neutral soap in sinks, counters, coating and floors. To avoid staining, do not put the detergent into the material and never use abrasive products and aggressive chemical compositions.
As you can see, the use of natural stones in architecture is a sure bet when it comes to add charm and elegance to the environments. Enjoy!
To get a closer look at all this richness and variety of materials, visit the Vitoria Stone Fair l Marmomac Latin America 2019, which takes place from February 12 to 15 at Grande Vitória, in Brazil. Get to know more.
---